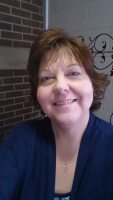 LisaAnne was appointed as the Laity Supply Pastor to Elliston Zion on July 1 2019.  She is in the process of becoming a Local Licensed Pastor in the United Methodist Church.
Her office hours are on Tuesdays from 4-8:30 PM.
To add an item to the church calendar or reserve the fellowship hall, please send LisaAnne an email at ellistonzionoffice@aol.com.
She is also Certified Lay Servant and is available for pulpit support. 
If you are in need of spiritual support, you may call /text LisaAnne at 419-250-1188.