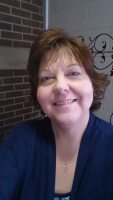 Pastor LisaAnne was appointed as the Laity Supply Pastor to Elliston Zion on July 1 2019.  She completed Local Licensed Pastor's Training and was appointed by Bishop Palmer to Elliston Zion as Lead Pastor effective Oct. 1, 2020. 
To add an item to the church calendar or reserve the fellowship hall, please send Pastor LisaAnne an email at ellistonzionoffice@aol.com.
She is also Certified Lay Servant and is available for pulpit support. 
If you are in need of spiritual support, you may call /text LisaAnne at 419-250-1188.